Get to Know the Artist- Clara Berta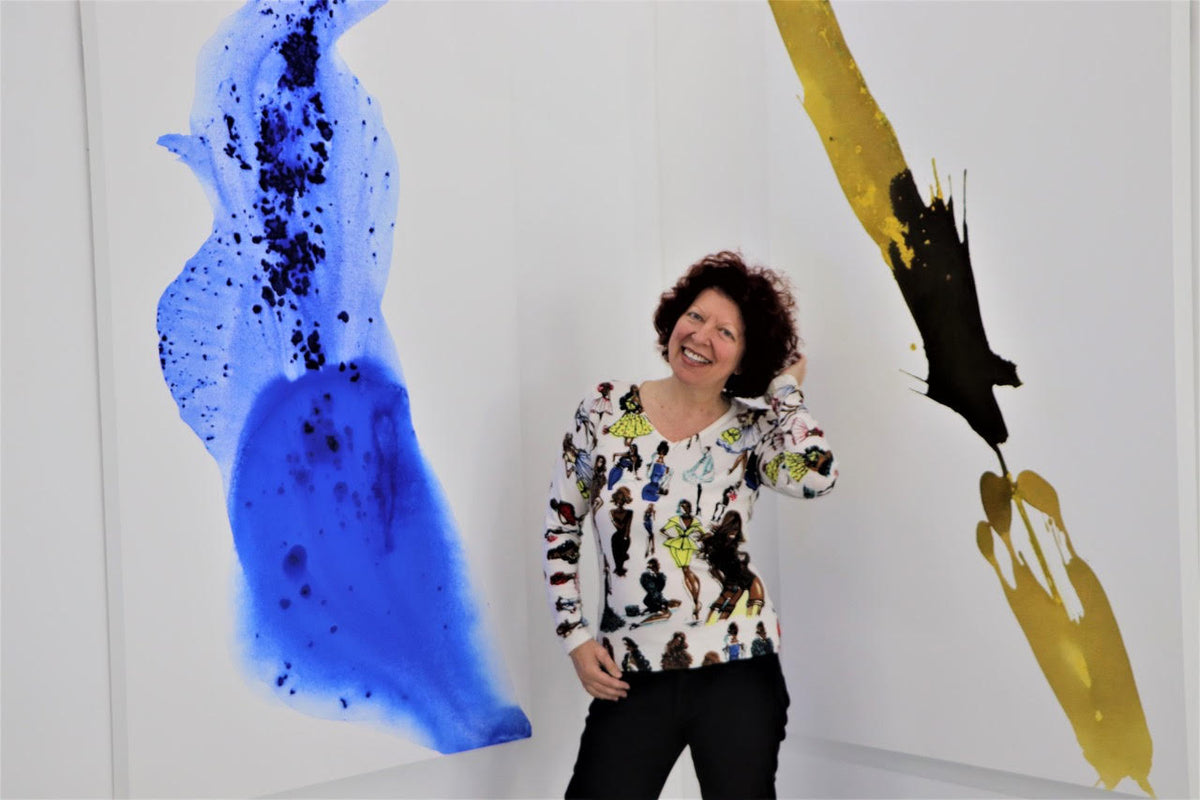 We had the special honor to ask Ethos artist,
Clara Berta
, about herself and her   process. She has been with us since 2018, and has been an incredible talent   to work with. Her masterful display of motion, color, and abstraction all blend together to create an artistic experience that is hard not to connect with. She draws from nature as inspiration to fuel her work, and each of her pieces has a unique story. While her work on its own is gripping, Clara's excitement and passion for what she does is contagious and brings the viewing experience to an entirely new level. 
Getting to Know Clara Berta
What is your name and what do you do? 
My name is Clara Berta, and I am an abstract artist.
Where do you call home? 
I call Los Angeles my home since I have been living here since 1987 and never left.  I love it here very much.
When did you start making art? When you started, were the people in your life supportive?  
I started when I was 25 years old and my family was not very supportive, in fact my boyfriend at the time wasn't into my work either.   However with some time, I decided it was up to me to pursue my passion and listen to myself.  The only person who was very supportive was my aunt, she was understanding and gave me unconditional love especially for my creative outlet.
                                                         Carnival, 2019

                                                         48"x72"
What is something that you wish people knew about you? 
I think people don't know that I am a bit shy, perhaps that is something I do not talk about much since I love being on stage and also connecting with people.
What does your artistic process look like? 
Sometimes my process looks like a mess, however I do clean up well.   I think my process is about creating works that are moving and emotional. I have heard that I am a master of negative space, or creating realized space. That's a huge compliment to me and there are times where I try really hard to create that space since I find my work needs to breathe. This way the colors can jump out at you. 
What is the most vulnerable piece of art that you have created? 
My most vulnerable piece of art that I created was Mystery, perhaps it is because the collector truly connected with this piece because of the spiritual aspects of the work.  I also felt it when I created it, so it seems that the right energies connected.  
                                                                      Mystery, 2018

                                                                      48"x48"
How do you feel about the stereotype that the best art comes from sadness? 
I think sometimes this can be true- when I release my feelings something magical happens.  I also create when I am really happy and excited.  I think there is a balance of both.
Here is a great quote:
"For creatives, this depression is what amplifies motivation to do their work better. It's not enough to keep doing what you've been doing as a creative, you have to do more, and do it well. That's empowering, if you can make it through the initial dip in energy."
I agree with this statement because I became an artist shortly after I lost my husband. I was grieving and depressed and somehow my art took over and helped me through my process. At every difficult moment in my life, art was there for me, it is something that I must do in order to find my joy and happiness.
                                                                         Venice, 2019

                                                                         48"x60"
What is something someone has said to you that you still hear and replay in your head? 
My mother used to say you need to go back and finish graduate school and become a therapist. And I said:  "mom, I am already a working artist, I do not need to go back to school.  I am very happy today."
What is something that you learned living through 2020? 


I learned that the outside world doesn't affect my inner world, that I can feel positive and grateful every day for many amazing things and people in my life. I learned to take risks and invest in my career, which led me to invest in a gallery in Dubai. We are getting ready to have an opening this year.  I was able to achieve this because I made a decision early last year in February that I desired to be a Global artist.
When have you had your worst artist block and how did you get over it? 
I think I had the worst time about three years ago- it wasn't exactly a block, but more like a major concern about my next step. I was staring at a bucket of paint and water and thought, "why don't I recycle this and see what happens?".  The most incredible thing happened, the painting I created turned into a fabulous circle and the color truly surprised me since it was so dark, however once it dried it became light and was filled with a feeling of serene calmness.
                                                                               Deep Night, 2021

                                                                               40"x40"
What is a valuable lesson that you learned in an unexpected way? 
The most important lesson I learned was to listen to my intuition and trust myself, because my intuition is always right.  I'm not quite sure how it was in an unexpected way, this will take more thought.  I also learned that investing in my own personal growth helps to expand my business.
If you could freeze any moment in time, what would it be? 
I honestly do not have any moments in time that I would freeze, since I appreciate so many special moments in my life. Gratitude and being present is what helps me to enjoy each moment as I did, I'm taking today to reflect on life.
                                                                           Blissful, 2021

                                                                           60"x36"
What life event have you experienced that fuels your art? 
When I think back to my childhood there are memories of my father leaving when I was nine years old which made a huge impact. I was missing him a great deal and when we reunited two and a half years later, it felt like we were a family again. I had always felt a void in my life, and as I write this, I'm happy that our relationship is better today. Healing from that pain was a big part of my art journey. My progression could be related to my feeling of having to prove to him that I am in fact a talented artist with a successful career. 
If you could ensure that one person, dead or alive, saw your art, who would it be?
I believe it would be my late husband. I wish he could see what I am doing today with my creative work and how I successfully turned it into a business.  I know that he would be very proud, since he would tell me that he wants me to be successful and independent, so that I do not need to worry about financial support from anyone.